Regional Travel Voucher Scheme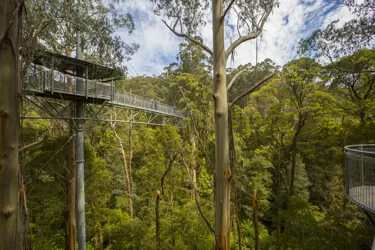 The Regional Travel Voucher Scheme gives Victorians an incentive to explore their state, with the Victorian Government providing vouchers to Victorian residents to contribute to the costs of accommodation, tourism attractions or tours undertaken in regional Victoria. This includes a visit to Otway Fly Treetop Adventures.
What can the vouchers be spent on?
Expenditure of more than $400 must be incurred on one or more of the following:
Entry fees to local attractions, including Otway Fly Treetop Adventures.
Recipients must stay a minimum of two nights in regional Victoria in paid accommodation.
Travel must be undertaken within the 48 regional and rural Local Government Areas, including Colac‐Otway Shire Council).
Who is eligible to apply for the vouchers?
Victorian residents over the age of 18 are eligible to apply. Each household is limited to one voucher each. Each voucher gives the voucher holder the right to claim for a reimbursement of $200 if they have spent at least $400 on accommodation, a tourism attraction or tour in regional Victoria. 
Apply for Regional Travel Voucher here.
How do I redeem my vouchers?
You will be sent a link during the Eligible Travel Period to enable you to make your claim after you have undertaken your trip during the relevant Eligible Travel Period. Using the link, you can upload the evidence of eligible expenditure from your trip. Please note that you will need to provide tax invoices and/or receipts for a value of at least $400 towards Eligible Expenses.
Over what period of time can travel take place?
The indicative key dates for this scheme are:
Round 1: Eligible travel period 12 December 2020 to 22 January 2021 (claim period: 4 January 2021 to 5 February 2021)
Round 2: Eligible travel period 27 January 2021 to 1 April 2021 (claim period: 11 March 2021 to 15 April 2021)
Round 3: Eligible travel period 6 April 2021 to 31 May 2021 (claim period: 10 May 2021 to 14 June 2021)
How will the Regional Travel Voucher Scheme work?
Registration and redemption of vouchers will be a simple process:
Applicants register for a voucher online.
Applicants will receive an email within 24 hours acknowledging their registration is among the number of applicants available for that round and that they will receive a voucher subject to an eligibility check.
Voucher recipients take their trip to regional Victoria during the eligible travel period.
Following their trip, recipients will be able to redeem their voucher by providing invoices and receipts as evidence of eligible expenditure of $400 or more.
Upon confirmation of eligible expenditure, voucher funds of $200 are transferred to the recipient's nominated Australian bank account.
Can I stay in unpaid accommodation?
No, you must stay in paid accommodation for your holiday. This scheme is designed to provide a boost to regional tourism businesses including accommodation providers; you still must spend at least $400 on accommodation, tours or entry fees to tourism attractions.
How much are the Regional Travel Vouchers worth?
The vouchers are worth $200 each and recipients must spend a minimum of $400 on eligible expenses.
What happens if I spend less than $400? Can I claim 50% of what I spend?
No. The vouchers are fixed at $200, and you must spend a minimum of $400 on eligible expenses.
For more information