Fly down our Zipline course
ZIPLINE TOURS
Attention Adrenaline seekers! Fly down our Zipline course, a unique eco-wilderness adventure. Participants zip from one 'cloud station' to another connected by cables up to 30m above the forest floor. This exciting adventure lasts 2.5 hours and is guided by experienced guides. Guides will provide you with an insight into the forest's history and its features and provide you with an experience you won't forget! Visitors will see the trees and forest in a new light and learn about this growing and vibrant rainforest.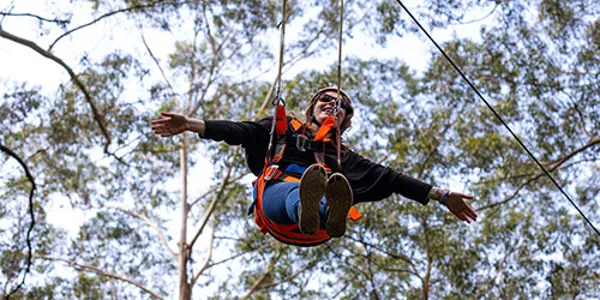 Zipline Tours
Includes admission to the Treetop Walk
Up to 2.5 hour experience
Family tickets $337.50 (2 adults and 2 children)
Online From
$108
Per Adult
On The Day From
$120
Per Adult
BOOK NOW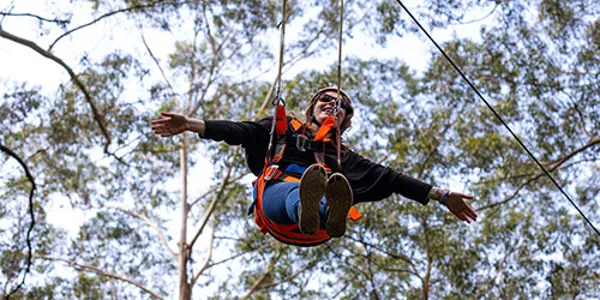 Zipline Tour Gift Voucher
Includes admission to the Treetop Walk
Up to 2.5 hour experience
Family tickets $337.50 (2 adults and 2 children)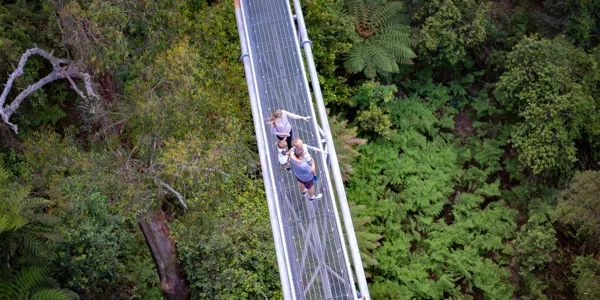 Pre-Book Your Time
Book this if you have a previously booked ticket, a ticket from a third party or you are a Merlin Annual Passholder
Book a date and time to guarantee entry
Spaces are limited
The Otway Fly Zipline Tour is an extreme Rainforest experience you will never forget!
Visitors can zip through the leafy treetops of the magnificent Otway Ranges from one 'Cloud Station' to another, suspended up to 30 metres above the forest floor.
Specialist guides will provide training and unique rainforest insights.
The Zipline Tour includes entry to the Treetop Walk. 
Please check Terms & Conditions below before purchasing as these tickets are non-refundable. 
Fast Facts:
Please note: the Tree Top Walk is included in the Zipline Tour price
The Zipline tour takes up to 2.5 hours
The Zipline Tour operates in most weather conditions – rain, hail or shine! The Zipline tour will only be cancelled in severe weather conditions such as lightning storms and high winds.
Please note the Treetop Walk closes at 5pm – ensure you allow at least 1.5 hours to complete the walk before a 2:30pm or 3:00pm Zipline tour
Closed toe shoes and appropriate clothing must be worn
Bookings are essential!
Important Information
Must be at least five years of age and a minimum 125cm tall
Maximum weight of 117kgs fully clothed
All children under 13 must be accompanied on the course by a paying adult who is over 18 years old. 13 - 17 year olds can go unaccompanied as long as they can abide by the rules, follow safety instructions and has to have waiver signed by an adult who is on site.
Please note that it is advised for visitors booked into an afternoon Zipline Tour to arrive 1.5 hours prior to have enough time to enjoy the Treetop Walk.
Guests need to be of a reasonable degree of physical ability and will be asked to perform four (4) consecutive deep squats and to hold the flying position for 5 seconds (sitting on a chair leaning back with legs above belly button height).
Download Liability Waiver
Zipline Prices
Same day discount does not apply. Midweek offer is only available during off-peak periods. 
YOU MUST BOOK TO SECURE YOUR SPOT. 
| | | | |
| --- | --- | --- | --- |
| Ticket type | Standard price: | Online discount 10% | MIDWEEK OFFER( not available on peak season) |
|  Adult |  $120.00 | $108.00 | $99 |
|  Child (5 - 15 years) |  $85.00 | $76.50 | $76.50 |
|  Family (2 adults + 2 children) |  $375.00 |  $375.00 | $375.00 |
Are you a Merlin Annual Passholder?
If you are a Merlin Annual Passholder and are looking to book in for our Zipline Tour, please click here to book.
To plan ahead - check out our available dates and times here so you can let us know when you are wanting to visit!
Terms and Conditions
Your Zipline Tour booking is non-refundable and non-transferable.
Midweek offer is only valid on Monday, Thursday, and Friday.
You must arrive 30 minutes prior to your scheduled tour time
Must be at least five years of age and a minimum 125cm tall
Maximum weight of 117kgs dressed
All children under 13 must be accompanied on the course by a paying adult who is over 18 years old. 13 - 17 year olds can go unaccompanied as long as they can abide by the rules, follow safety instructions and has to have waiver signed by adult on site.
You cannot take any loose items on tour – no phone unless its secured visibly attached (in a dry pouch) not in pockets
Guests need to be of a reasonable degree of physical ability and will be asked to perform four (4) consecutive deep squats and to hold the flying position for 5 seconds (sitting on a chair leaning back with legs above belly button height)
The Tour has NOT been designed for persons:
Who are beyond the first trimester of pregnancy
Who suffer from vertigo or extreme fears of heights
Who have heart conditions
Who are legally blind or have other limiting disabilities
Who have ankle, knee, hip injuries that can be exacerbated by performing the landings
Who have spinal injuries or any other physical conditions that can be exacerbated by harness pressure, twisting or bending, strong/awkward landings