National Tree Day
National Tree Day on 30 July is Australia's largest community tree-planting and nature protection event. It is a national call to action for all Australians to put their hands in the earth … and give back to their community. It's a day to venture outdoors and get to know your community, and most importantly, to have fun!
Otway Fly Treetop Adventures is honouring this important national day by inviting schools to enter our TREE DAY competition. Students are encouraged to explore their creativity whilst showing their understanding of how important trees are to us!
Write a poem, draw a picture, paint a mural, design a board game, make a stop motion video. The only limit to your creativity is that each entry must be submitted digitally! So long as you can show us the importance and beauty of our trees – we can't wait to see what you give us!
The winning entries school will adopt one of our trees along our tree top walk, with a plaque dedication to the school.
The winning student will also win a family pass to enjoy the pristine and majestic natural environment that we have on offer here at Otway Fly Treetop Adventures
Get behind this important national day and give your students a fun project – with a tree-tastic prize up for grabs!
Winner!
A big thank you to all the wonderful entries we had for the National Tree Day Competition. Thank you to all the students that put in the time and effort to provide us with some absolutely wonderful work.
The winner is Prama V from Cambridge Primary School! See below her incredible work titled "Give, Don't Take".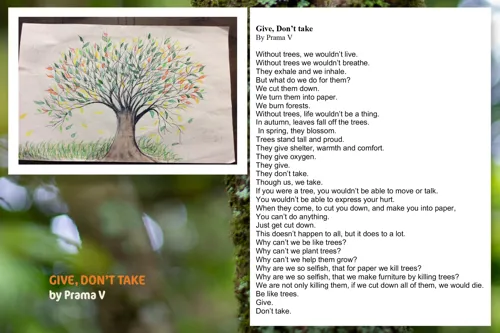 Once again a massive thank you for all the students and teachers that put in the time with their wonderful pieces of work we have received.